Venue:
Icon Nightclub
Event Date:
Friday June 22nd 2018
Arrive by:
11:59pm
Guests:
6
Pricing Detail for:
One Item
Item Name:
VIP Table
Subtotal:
$5,000.00
Service Charge :
$100.00
Gratuity:
$1,000.00
Sales Tax :
$357.00
Processing Fee:
$359.14
Pay Now:
$6,816.14

All taxes are included if not specified.

Minimum spend plus tax and gratuity will be applied towards your final tab.
Maximum of 12 guests per table with 6 guests comped at the door and remaining guests will be admitted on $25 reduced admission.

**In some cases, the exact location of table is not guaranteed. A comparable location will be provided in the event your exact location is not available and needs to be replaced.**

---

Icon Nightclub Terms and Conditions – UrVenue

* Ticket price includes tax, unless otherwise specified.
* Processing Fee is non-refundable under all circumstances.
* All gratuities, incidental expenses, registrations, fees or charges, and other expenses, including, but not limited to, gambling expenses, food, beverage, and merchandise are the sole responsibility of the guest.
* Guest must arrive by time specified on ticket for guaranteed entry.
* Guest must bring a printed copy of the email confirmation with scan-able ticket(s), valid photo I.D., and the credit card used to purchase the ticket(s).
* Guest must be 21+ to enter the venue with valid identification.
* Guest must be at least 21 years of age with a valid government issued ID to be presented at the door. Copies or paper identification will not be accepted. Non-United States issued identification must be accompanied with valid passport to be presented at the door to gain entry into the venue.
* Tickets are non-transferrable or available for resale. Lost or stolen tickets will not be replaced.
* Artists and event subject to change without notice.
* All ticket sales are final and nonrefundable.
* Venue reserves the right to deny access into venue due to capacity restrictions.
* Appropriate dress is required and strictly enforced.
* Disregard or violation of these Terms and Conditions will automatically invalidate ticket(s) purchased and guest will not receive a refund of any kind.
* Management reserves all rights, including, without limitation, the right to cancel, suspend or modify the event at its sole discretion.
* This offer is subject to all applicable federal, state and local laws, and regulations. This offer cannot be published or posted on any third party websites without the prior written approval.
) [id] => Array ( [0] => 801919905 ) [name] => Array ( [0] => VIP Table ) [catid] => Array ( [0] => maptable ) [catname] => Array ( [0] => Tables ) [globaltype] => Array ( [0] => table ) [mapid] => Array ( [0] => 709060673 ) [allowlead] => Array ( [0] => 0 ) [restypeid] => Array ( [0] => 709028888 ) [hasglobalimage] => Array ( [0] => 0 ) [globaltypetix] => Array ( [0] => 0 ) [secid] => Array ( [0] => 80142947 ) [baseprice] => Array ( [0] => 500000 ) [minimum] => Array ( [0] => 500000 ) [paynow] => Array ( [0] => 681614 ) [imageurl] => Array ( [0] => https://uvtix.com/imateq/tiximages/709011270/raw/80142947.jpg ) [termstring] => Array ( [0] => Prepay ) [lineorder] => Array ( [0] => single ) [capacity] => Array ( [0] => 6 ) [checkoutguest] => Array ( [0] => yes ) [maxguests] => Array ( [0] => 18 ) [overcharge] => Array ( [0] => 2500 ) [checkoutmin] => Array ( [0] => yes ) [feetype] => Array ( [0] => pretab ) [caldate] => Array ( [0] => 2018-06-22 ) ) ) ) ) [layouts] => Array ( [0] => Array ( [layout] => Array ( [0] => Array ( [layoutvar] => Array ( [0] => itemname ) [layoutname] => Array ( [0] => Name ) ) [1] => Array ( [layoutvar] => Array ( [0] => guests ) [layoutname] => Array ( [0] => Guests ) ) [2] => Array ( [layoutvar] => Array ( [0] => total ) [layoutname] => Array ( [0] => Sub-Total ) ) [3] => Array ( [layoutvar] => Array ( [0] => terms ) [layoutname] => Array ( [0] => Terms ) ) [4] => Array ( [layoutvar] => Array ( [0] => button ) [layoutname] => Array ( [0] => - ) ) ) ) ) ) ) ) ) [globals] => Array ( [0] => Array ( [webcode] => iconnightclub [map] => [metareaid] => 362 [currency] => ) ) [eventprofile] => Array ( [0] => Array ( [id] => 223920 [status] => 7 [createtstamp] => 1513200283 [modtstamp] => 1527016352 [createuserid] => 0 [moduserid] => 0 [name] => #ICONFridays [descr] => <p>ICON Fridays, brought to you by Pritty Ugly Media, is a jolt of high energy to get your weekend started right. Join us each and every week and experience the number one Friday night destination in Boston. ICON Fridays hosts a rotation of incredible DJs, attracts the trend setters and delivers an always cutting edge  and epic end to the work week. <br /><br />Contact your VIP Host for tables! Don't have one? 617-631-7202<br /><br />Dress Code: Men Jeans, Collared Shirt, Dress Shoes | Ladies Dress to Impress<br /><br />Management reserves all rights*<br /><br />21+ ID Required</p> [starttime] => 22:30:00 [endtime] => 02:00:00 [starttimebased] => 1 [endtimebased] => 1 [releasetstamp] => 0 [private] => 0 [venueid] => 4638 [archived] => 0 [eventtypeid] => 1041 [urvenueid] => 0 [roomid] => 0 [customized] => 0 [recurrentid] => 34986 [urownerid] => 0 [ticketsurl] => [privatedescr] => [priority] => 0 [promovideo] => [urclientid] => 709011165 [allowinquiries] => 1 [doorsopen] => [doorsclose] => [shortdescr] => [externalid] => 0 ) ) [venueprofile] => Array ( [0] => ) [timedz] => Array ( [time] => Array ( [0] => 1527148782 [1] => 1527148782 [2] => 1527148782 [3] => 1527148782 ) [pos] => Array ( [0] => pos8 [1] => pos9 [2] => pos10 [3] => pos11 ) ) )
Icon Nightclub :: #ICONFridays
Friday, Jun 22, 2018 @ 10:30PM
Event Description
ICON Fridays, brought to you by Pritty Ugly Media, is a jolt of high energy to get your weekend started right. Join us each and every week and experience the number one Friday night destination in Boston. ICON Fridays hosts a rotation of incredible DJs, attracts the trend setters and delivers an always cutting edge  and epic end to the work week. 

Contact your VIP Host for tables! Don't have one? 617-631-7202

Dress Code: Men Jeans, Collared Shirt, Dress Shoes | Ladies Dress to Impress

Management reserves all rights*

21+ ID Required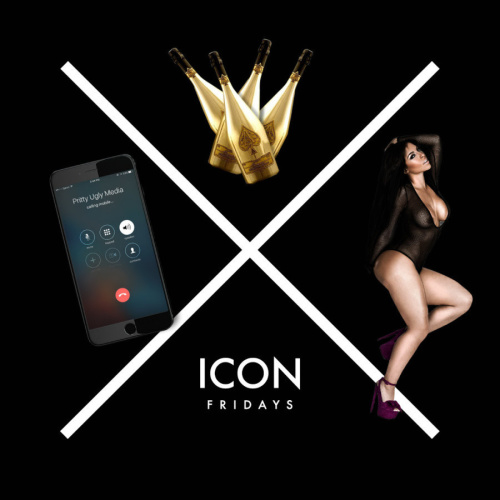 Share Icon Nightclub Presents :: #ICONFridays
Friday, Jun 22 | Doors: 10:30PM (ends at 2:00AM)