Icon Nightclub :: Irish Stroll
Saturday, Mar 16, 2019 @ 1:00PM
Event Description
Boston is conjuring up some serious luck this St. Patrick's Day weekend, with the Irish Stroll bar crawl on Saturday March 16th.
If any city knows how to make St. Patrick proud, it's Boston.
Grab your bagpipes and green and prepare to hit the streets with Beantown's best.
All of your favorite watering holes are letting Irish Strollers with a wristband in with no admission fee.
Save your gold because there will be drink specials at every participating destination.
If you're crawling with a crew over four, you can get a group discount on wristbands!
And if you're a die-hard St. Patty's day fan, there are multi-day passes to get you in to all of the weekend's events.
This is the St. Patrick's Day event Boston has been waiting for. Let's get to boozing all over jolly Beantown on Saturday's Irish Stroll!
Head to the registration destination between 1pm and 8pm to pick up your wristband and map and get strolling!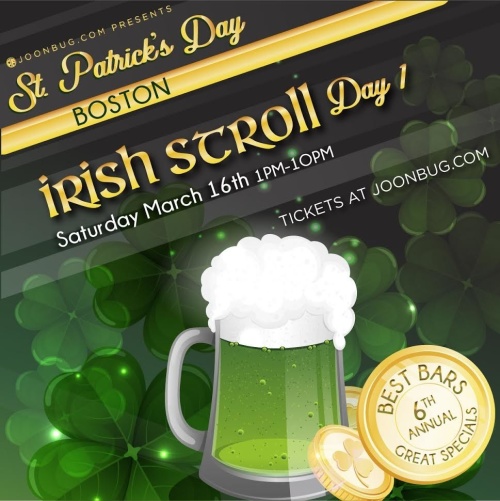 Share Icon Nightclub Presents :: Irish Stroll
Saturday, Mar 16 | Doors: 1:00PM (ends at 8:00PM)